Glass
Dragonfly Software has partnered with the leading glass companies to offer you a library of over 3700 glass images to use in your designs. Each glass sample is categorized and annotated to make it easy to find the glass you need. The samples are correctly dimensioned, so they appear in your designs at the correct scale.
Have a favorite glass manufacturer that's not on our list? No problem! It's simple to extend the glass library with your own images.
Finding the right glass has never been easier. Our unique glass browser allows you to choose a color, then shows you the samples that most closely match it. You can also search by manufacturer, part number, category or keywords.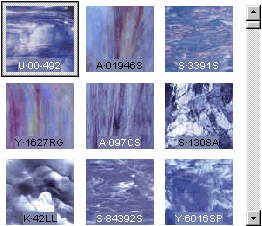 Description:
Gold-purple, cobalt blue on white, grapes, dragonfly wings
The ability to use glass images in your designs is available with the Professional and higher editions only.