Buy a CD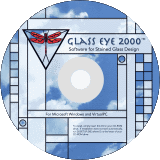 When a large download is impractical, or if you want our complete glass library, order Glass Eye 2000 on a CD.
Our CDs contain the latest version of Glass Eye 2000, which you can use either as a 30-day trial or as an update to a previous version. The CD also contains a high-resolution video tour of Glass Eye 2000 that is unavailable as a download.
Our CDs come in two flavors. The first contains the Glass Eye 2000 software and patterns, as well as a sampling of 51 glass images. The second contains all of that plus the complete glass library of over 3700 annotated and optimized images from ten glass manufacturers. With our Professional Edition package and higher you'll be able to use these images in your designs; with the Standard Edition you'll be able only to browse the library.
If you wish to make a new of purchase one of our licensed editions, please order here instead. Without a license, a CD purchased on this page provides only a 30-day trial, with the trial commencing on the first day you run Glass Eye 2000 on your computer. If you already have a license, installing from a CD ordered here will not affect that license or any of your designs — it will simply provide our latest updates.
Note: Enterprise Edition customers may purchase this CD if they want glass library updates only. If the latest version of the Enterprise Edition software is needed, please order here instead.
Glass Eye 2000 runs on all versions of Windows. It also runs on Macs with Boot Camp, Parallels or VMware Fusion (with Windows installed).